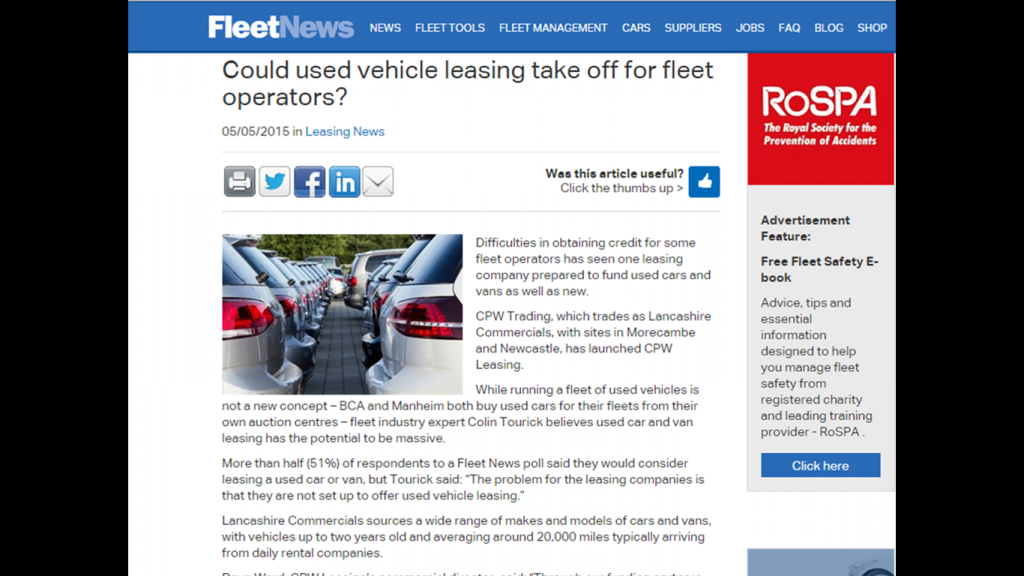 Full text here
Difficulties in obtaining credit for some fleet operators has seen one leasing company prepared to fund used cars and vans as well as new.
CPW Trading, which trades as Lancashire Commercials, with sites in Morecambe and Newcastle, has launched CPW Leasing.
While running a fleet of used vehicles is not a new concept – BCA and Manheim both buy used cars for their fleets from their own auction centres – fleet industry expert Colin Tourick believes used car and van leasing has the potential to be massive.
More than half (51%) of respondents to a Fleet News poll said they would consider leasing a used car or van, but Tourick said: "The problem for the leasing companies is that they are not set up to offer used vehicle leasing."
Lancashire Commercials sources a wide range of makes and models of cars and vans, with vehicles up to two years old and averaging around 20,000 miles typically arriving from daily rental companies.
Dave Ward, CPW Leasing's commercial director, said: "Through our funding partners, with their own loan books and terms and conditions, we have the flexibility to customise lease packages on new and used vehicles to meet individual customer needs.
"Sometimes it may be cheaper to have a new vehicle because of the manufacturer discounts available, but on other occasions a used vehicle may be more appropriate."
For lessees, the main benefit of leasing a used vehicle is a lower monthly rental than for the equivalent new car or van. Meanwhile, the lessor has a lower risk, as the vehicle will not suffer the level of depreciation of a new model.
CPW Leasing is expecting to write agreements initially on an average 10 used cars and vans per week. Used vehicles will initially be available on finance-only deals. The company hopes to have a maintenance package solution available by mid-year.
Despite CPW Leasing's optimism, established contract hire and leasing companies do not, in the main, believe used vehicle leasing is a viable option.
Andy Hartley, commercial director, Lex Autolease, said: "Regardless of whether the vehicle is new or used, company car drivers are still taxed on the original list price which, once combined with the increased servicing costs, potential reduced reliability and current availability of discounts on new vehicles, don't provide a compelling proposition.
"In respect of leasing used vans, there are additional considerations regarding running costs which increase as vehicles age, and also fuel consumption comparisons as new technologies are introduced to new vehicles."
In the late 1990s Lex Vehicle Leasing launched a nearly-new leasing operation to take advantage of stocks of pre-registered cars and three to six-month-old ex-rental models. Vehicles were RAC inspected pre-delivery.
Popular with brokers and promising savings of around £90 a month versus a new car, the man who established the operation, John Wrabin, told Fleet News: "Many brokers loved the proposition, but corporate business was less successful due to restrictive policies and preconceptions."
Wrabin claimed the nearly-new operation grew to around 5,000 units, but when he left Lex in 2001: "I and the team I established moved on. The momentum and interest waned."
Tourick said: "The main upside of used vehicle leasing is cost reduction – no need to fund the initial depreciation of the vehicle. The lessor also benefits because they have more equity in the vehicle throughout the lease which protects them in the event of client default.
"Dealer-owned and possibly manufacturer-owned leasing companies would be best placed to exploit the used vehicle leasing opportunity, because they can physically inspect and, if necessary, repair vehicles on site before sending them out on leases."
Peter Cakebread, managing director of Marshall Leasing and chairman of the British Vehicle Rental and Leasing Association, said: "Given the offers available on new cars and the VAT efficiency of those vehicles versus used in most circumstances, there is not always a cost advantage."
However, he added: "I can see the benefit of used vehicle leasing for some smaller businesses."