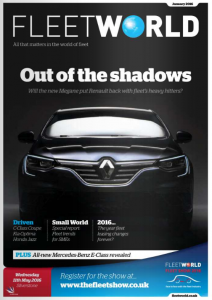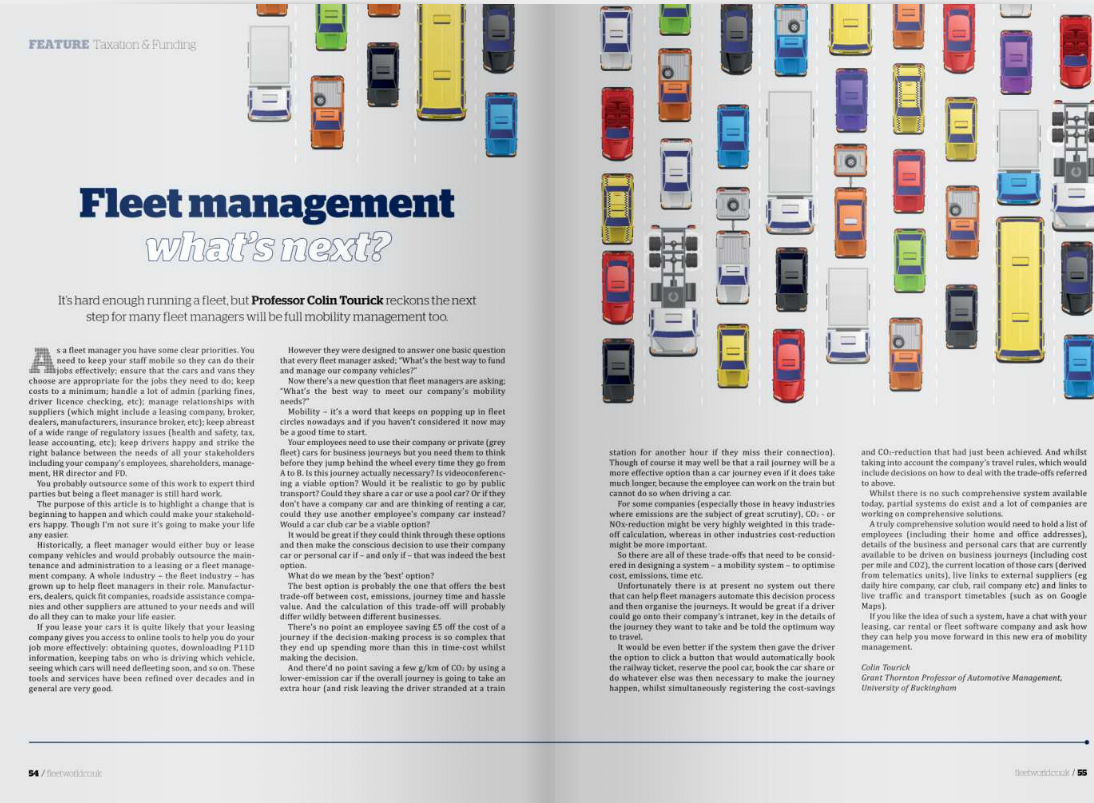 Fleet management – what's next?
As a fleet manager you have some clear priorities. You need to: keep your staff mobile so they can do their jobs effectively; ensure that the cars and vans they choose are appropriate for the jobs they need to do; keep costs to a minimum; handle a lot of admin (parking fines, driver licence checking, etc); manage relationships with suppliers (which might include a leasing company, broker, dealers, manufacturers, insurance broker, etc); keep abreast of a wide range of regulatory issues (health and safety, tax, lease accounting, etc); keep drivers happy and strike the right balance between the needs of all your stakeholders including your company's employees, shareholders, management, HR director and FD.
You probably outsource some of this work to expert third parties but being a fleet manager is still hard work.
The purpose of this article is to highlight a change that is beginning to happen and which could make your stakeholders happy. Though I'm not sure it's going to make your life any easier.
Historically, a fleet manager would either buy or lease company vehicles and would probably outsource the maintenance and administration to a leasing or a fleet management company. A whole industry – the fleet industry – has grown up to help fleet managers in their role. Manufacturers, dealers, quick fit companies, roadside assistance companies and other suppliers are attuned to your needs and will do all they can to make your life easier.
If you lease your cars it is quite likely that your leasing company gives you access to online tools to help you do your job more effectively: obtaining quotes, downloading P11D information, keeping tabs on who is driving which vehicle, seeing which cars will need defleeting soon, and so on. These tools and services have been refined over decades and in general are very good.
However they were designed to answer one basic question that every fleet manager asked; "What's the best way to fund and manage our company vehicles?"
Now there's a new question that fleet managers are asking; "What's the best way to meet our company's mobility needs?"
Mobility – it's a word that keeps on popping up in fleet circles nowadays and if you haven't considered it now may be a good time to start.
Your employees need to use their company or private (grey fleet) cars for business journeys but you need them to think before they jump behind the wheel every time they go from A to B. Is this journey actually necessary? Is videoconferencing a viable option? Would it be realistic to go by public transport? Could they share a car or use a pool car? Or if they don't have a company car and are thinking of renting a car, could they use another employee's company car instead?  Would a car club car be a viable option?
It would be great if they could think through these options and then make the conscious decision to use their company car or personal car if – and only if – that was indeed the best option.
What do we mean by the 'best' option?
The best option is probably the one that offers the best trade-off between cost, emissions, journey time and hassle value. And the calculation of this trade-off will probably differ wildly between different businesses.
There's no point an employee saving £5 off the cost of a journey if the decision-making process is so complex that they end up spending more than this in time-cost whilst making the decision.
And there'd no point saving a few g/km of CO2 by using a lower-emission car if the overall journey is going to take an extra hour (and risk leaving the driver stranded at a train station for another hour if they miss their connection). Though of course it may well be that a rail journey will be a more effective option than a car journey even if it does take much longer, because the employee can work on the train but cannot do so when driving a car.
For some companies (especially those in heavy industries where emissions are the subject of great scrutiny), CO2- or NOx-reduction might be very highly weighted in this trade-off calculation, whereas in other industries cost-reduction might be more important.
So there are all of these trade-offs that need to be considered in designing a system – a mobility system – to optimise cost, emissions, time etc.
Unfortunately there is at present no system out there that can help fleet managers automate this decision process and then organise the journeys. It would be great if a driver could go onto their company's intranet, key in the details of the journey they want to take and be told the optimum way to travel. It would be even better if the system then gave the driver the option to click a button that would automatically book the railway ticket, reserve the pool car, book the car share or do whatever else was then necessary to make the journey happen, whilst simultaneously registering the cost-savings and CO2-reduction that had just been achieved. And whilst taking into account the company's travel rules, which would include decisions on how to deal with the trade-offs referred to above.
Whilst there is no such comprehensive system available today, partial systems do exist and a lot of companies are working on comprehensive solutions.
A truly comprehensive solution would need to hold a list of employees (including their home and office addresses), details of the business and personal cars that are currently available to be driven on business journeys (including cost per mile and CO2), the current location of those cars (derived from telematics units), live links to external suppliers (eg daily hire company, car club, rail company etc) and links to live traffic and transport timetables (such as on Google Maps).
If you like the idea of such a system, have a chat with your leasing, car rental or fleet software company and ask how they can help you move forward in this new era of mobility management.
Professor Colin Tourick
Grant Thornton Professor of Automotive Management